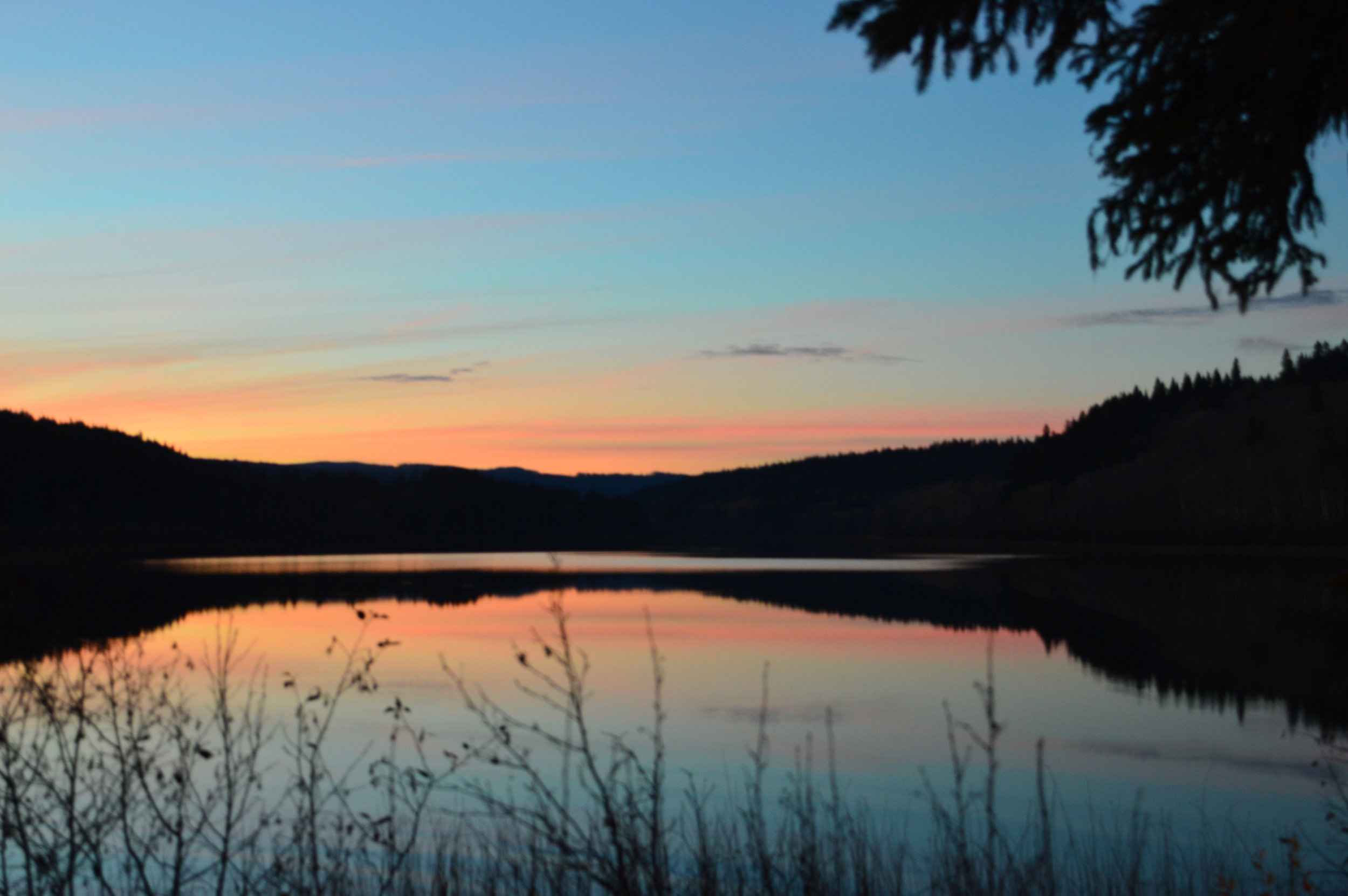 On the shore of Opheim Lake in the Cariboo Region of British Columbia, you'll find Heron Point Farm. It's an escape into nature, a place Norm and Candace love to share with visitors to the beautiful surrounding area. Heron Point is a small-scale farm in a wilderness setting. Through Fall, the shimmering Aspen leaves create carpets of gold, Winter brings a glittering frozen lake, Spring sees wildlife reawaken as bird songs return and Summer treats us to spectacular long, multicoloured sunsets. It's a pleasure to share these experiences and we welcome you to find out more by exploring out on the lake or enjoying a stay with us.
Norm grew up in the Cariboo and acquired a love for canoeing and the outdoors early on, being drawn to explore a large number of Cariboo-Chilcotin waterways. Norm met Candace on the Bowron Lake canoe circuit in 1971 and their love of nature and one another has continued ever since. They welcome you to stay at their family home B&B, built in 2016 with lake and farm views and contemporary comforts, or in the traditional log cabin nestled in the nearby woods for an off-grid, back to nature experience. If you'd like to spend a day enjoying the serene waters of Opheim Lake, canoes, kayaks and paddle boards are available for rental. There's no shortage of ways to experience Heron Point from a relaxing B&B retreat to a multi-day canoe adventure down the chain of lakes.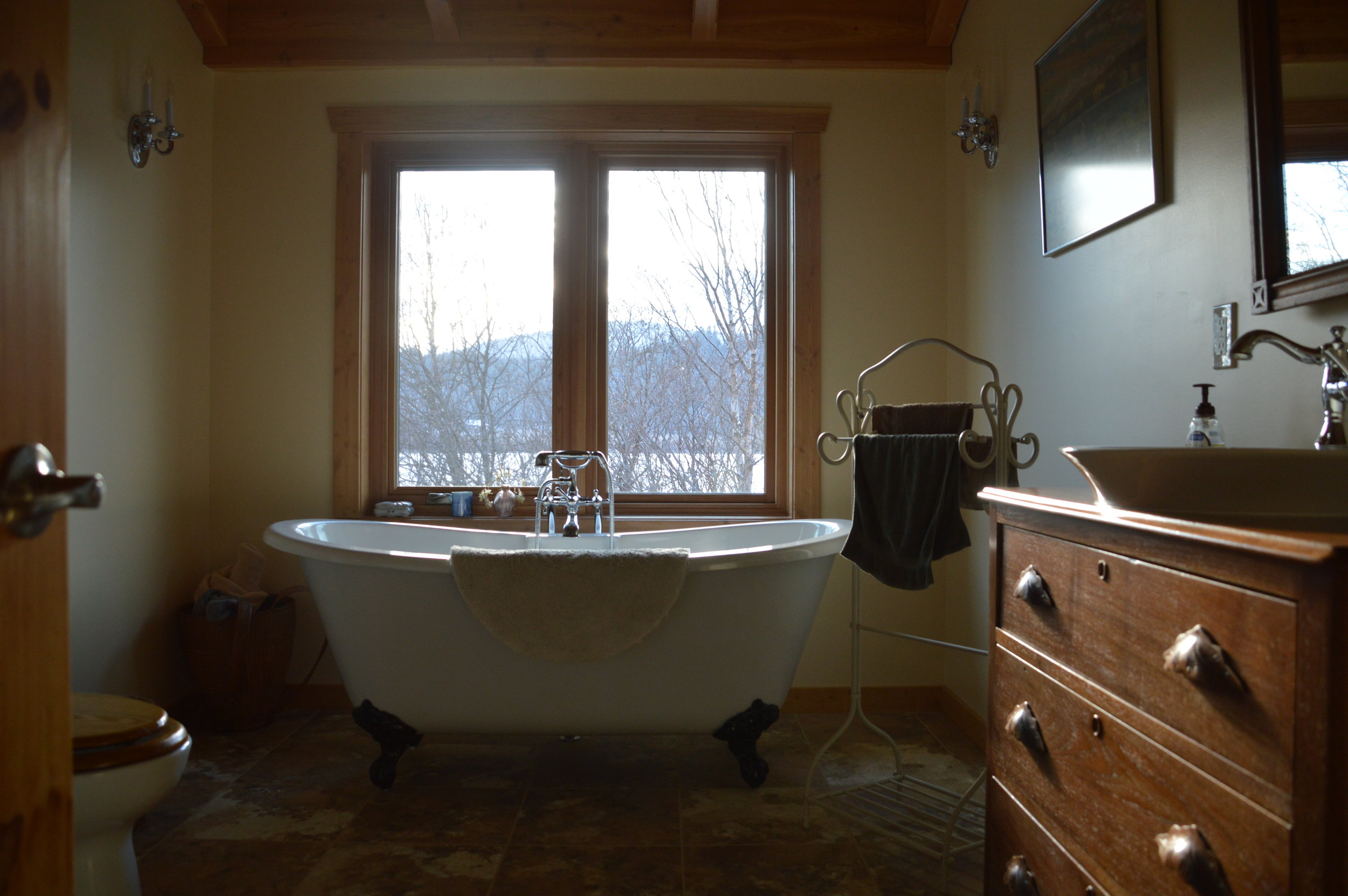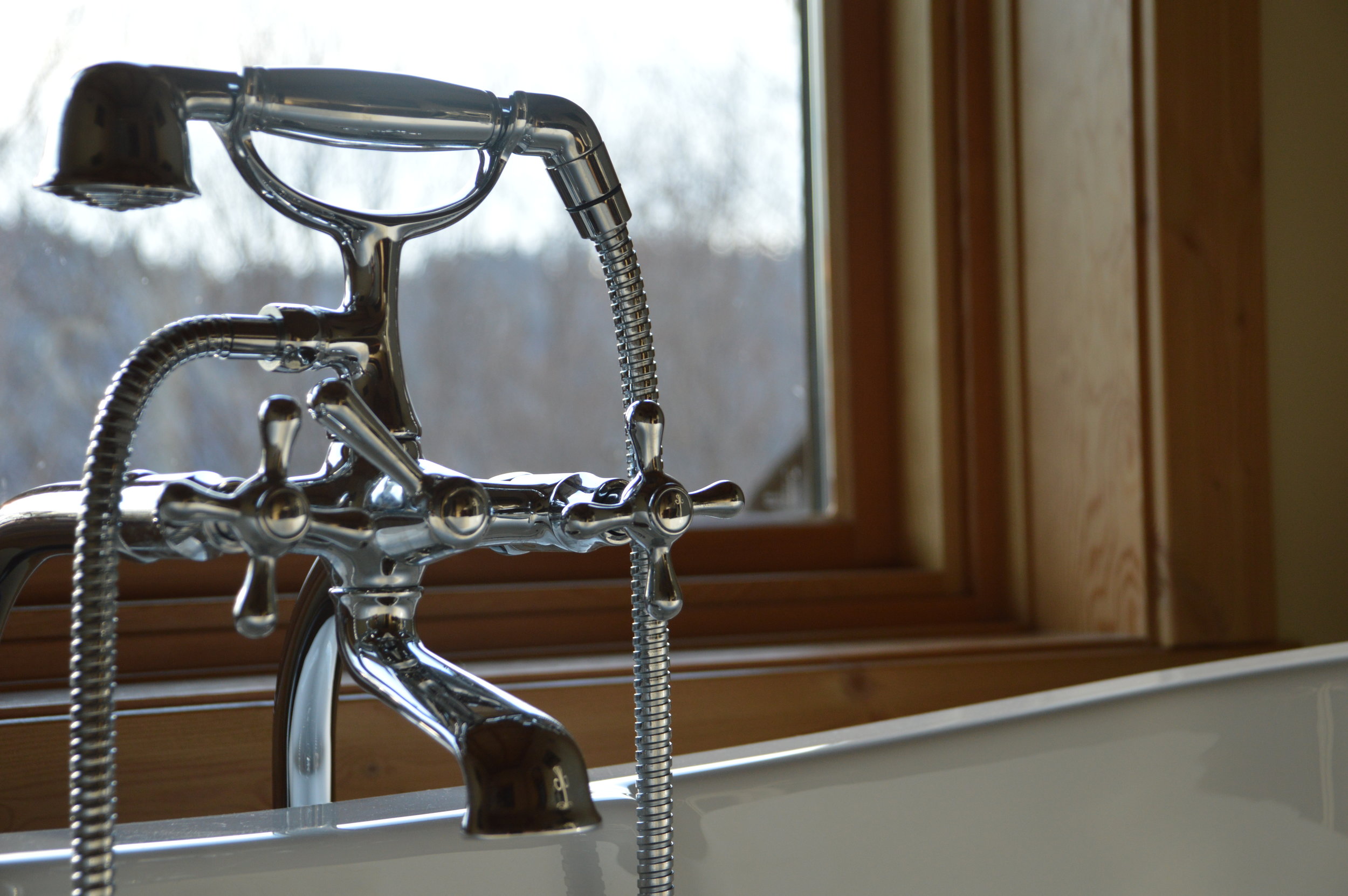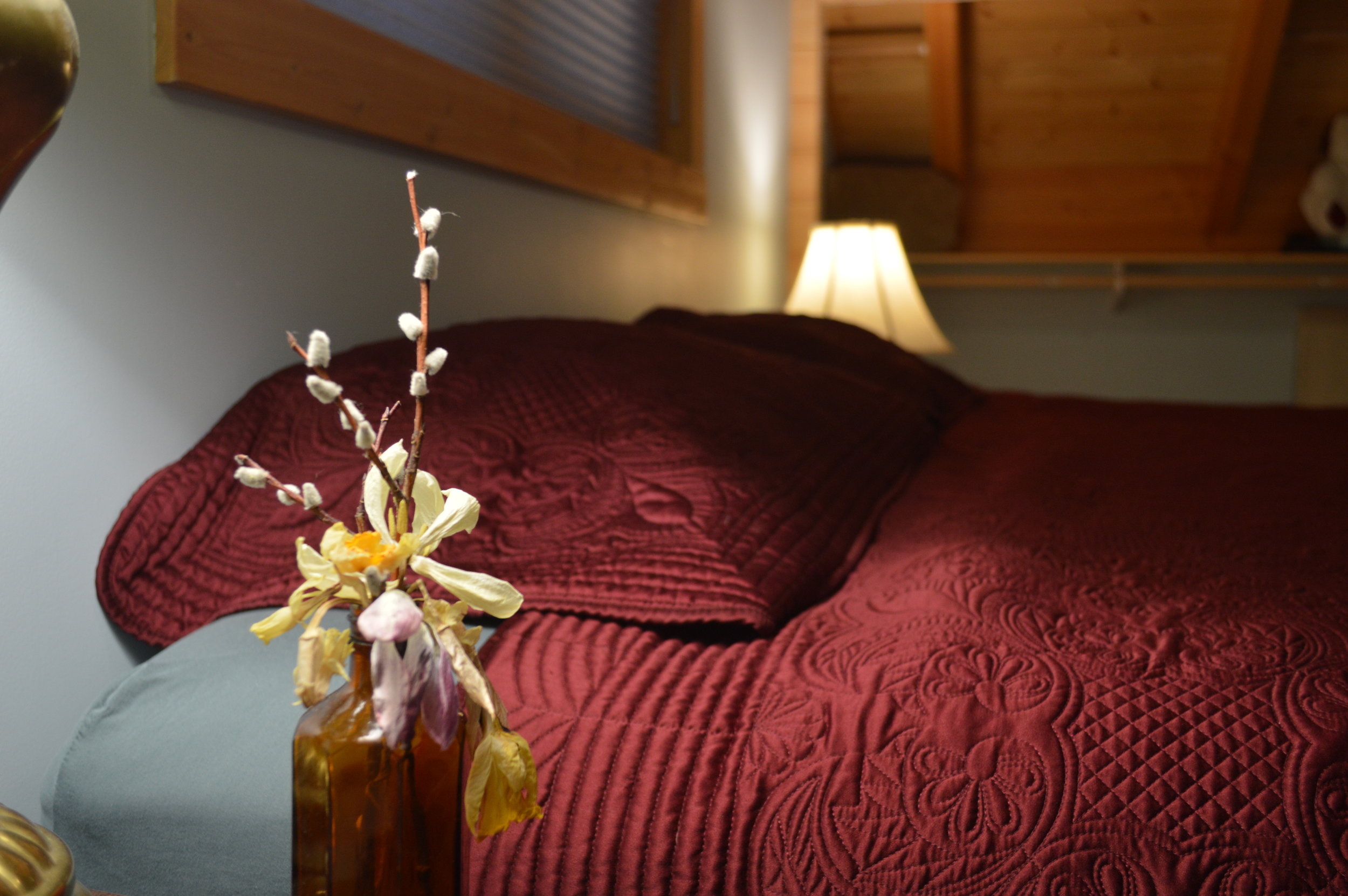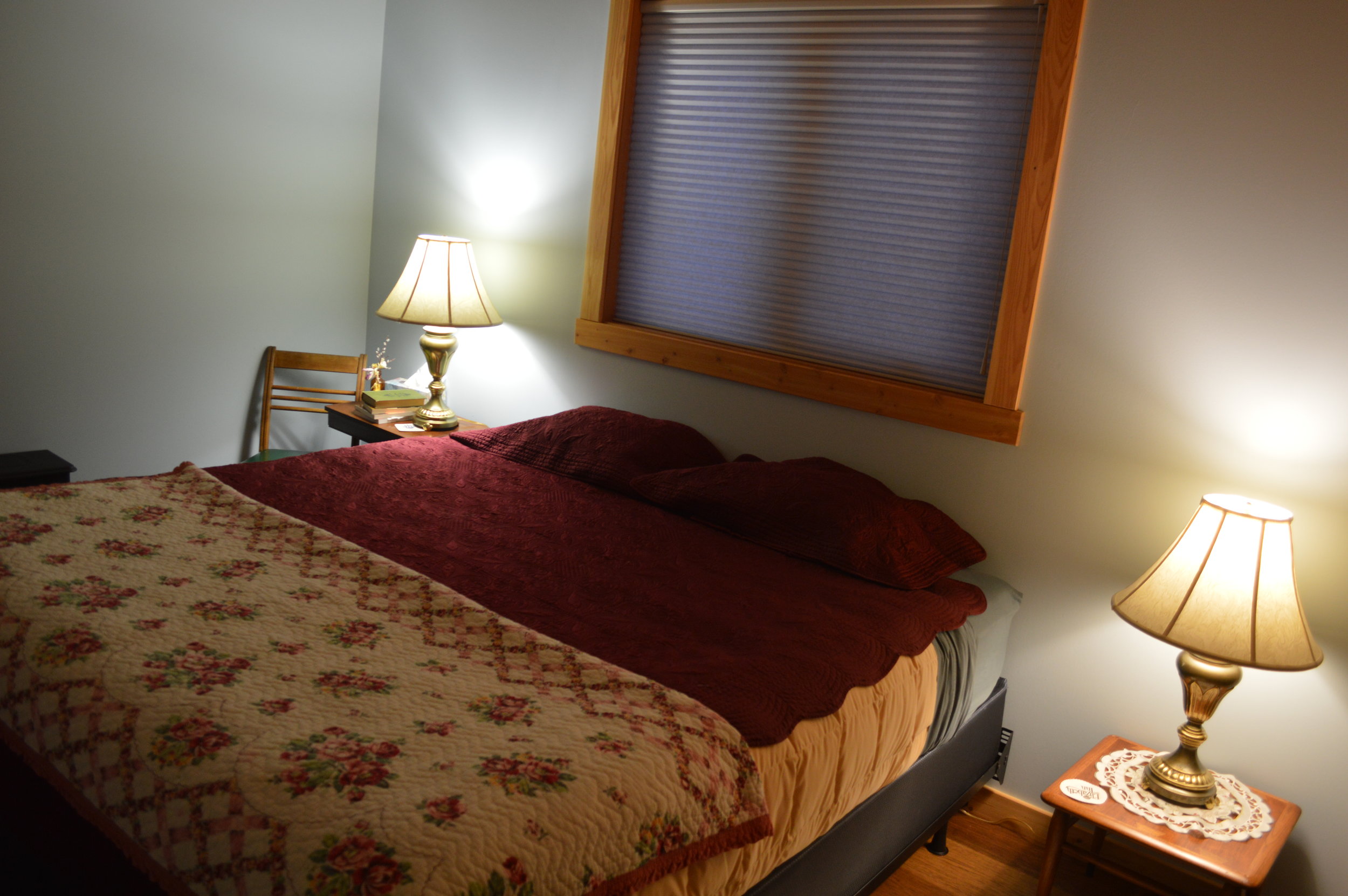 stay
Enjoy a luxurious stay in our family home, on the shore of Opheim Lake. Our timber framehouse was built using historic crafts and modern methods and materials from around the world in order to create a unique, energy efficient home in harmony with the surrounding natural area.

rest
Sleep soundly in our guest bedroom on the mezzanine floor. It boasts a deluxe king-sized mattress and beautiful views of the peaceful farmland and eagles' nest. Bathe in the luxurious guest spa room where you can enjoy views of the Opheim shoreline from the comfort of a claw-foot bubble bath. Lounge in the mezzanine library with views over the lake reading tales of the Cariboo, its history and its wildlife.

Dine
Wake up feeling refreshed and enjoy a freshly prepared breakfast. We are proud to cook with local, organic farm produce. On our breakfast table you'll often find fruits, wild edibles, salads and vegetables from our land and eggs from our friendly ducks and chickens. The meat on our table is also healthy e.g. grass-fed beef.
EXPLORE
In summer, paddle and swim in the lake or take a peaceful walk on our network of trails linking lakes, forests and farmland. In fall, enjoy the migratory birds in this birder's paradise and watch animals like beavers busily preparing for winter. In winter, cross country ski on our trail network, go snow shoeing or ice skating when the lake is frozen and smooth. In spring, delight in the return of the birds and waterfowl as you walk around the farm and adjoining areas. You may have the opportunity to observe the many courtship rituals of the smallest to the largest birds i.e. hummingbirds to eagles and Sandhill Cranes. References are available to help you identify flora and fauna, including tracks. For those interested in life on a small scale farm, we'd love to tell you more, give you a tour of the earthship inspired cabin, or even just take you out to meet the ducks, chickens, and horses of Heron Point Farm. Canoes, kayaks, paddle boards and all the equipment you need for a great paddle is also available for rent. Find out more here.
DISCONNECT TO RECONNECT
Escape the fast pace of modern life with the cabin stay by living at a pace more in harmony with the natural world; experiencing life as it was in an era gone by. . Our traditional log cabin on the shoreline of Opheim Lake offers a true escape to experience off-grid life in the woods. Find satisfaction and relaxation in discovering a non-electric life, simple yet comfortable.

THE STORY
In the 1970s as a young couple, we spent virtually every weekend escaping to build the cabin from scratch. Originally our special shelter helped us to connect with nature and realize our dreams. We loved sharing this with family and friends, and now it provides an off-grid experience for visitors from around the world. Recent updates including a new cedar shake roof and the installation of a modern wood stove to make your stay cosy and comfortable.

OFF-GRID EXPERIENCE
The cabin is perfect for those in search of a truly unique experience. Imagine stepping back in time to when nothing needed to be charged. Imagine no phone, heating with fire, refrigerating drinks in an old fashioned, non-electric ice box and grinding your morning coffee with a hand-crank coffee grinder. The cabin has no electricity! A bright, tidy out-building with a clean composting toilet is there for when nature calls (cabin guests also have access to a washroom in the main house if preferred). If you're more used to city life than cabin life, don't worry; you're far enough away from everything to enjoy complete peace and quiet yet close enough to the main house to get the answers to any questions you may have.

COOKING WITH FIRE
During your stay, discover the joy of cooking on an outdoor fire. Our outdoor cooking area has hosted many cook-outs and has everything you need to unearth or rediscover a love of outdoor cooking. If the weather isn't suited to sitting outside, cooking on the wood stove in the cabin is possible too. Let us know before or during your stay if you're interested in giving it a try, and we will provide all the food, fuel and know-how.
EXPLORE
In Summer swim in the lake or take a peaceful walk on our network of trails linking lakes, forests and farmland. In Winter cross country ski our on our trail network, go snow shoeing or ice skating when the lake is frozen and smooth. For those interested in life on a small-scale farm, we'd love to tell you more or even take you out to meet the ducks, chickens and horses of Heron Point Farm. Canoes, Kayaks, Paddle boards and all the equipment you need for a great paddle is also available for hire.
Find out more here.
canoe and kayak
The Cariboo-Chilcotin is famous for its many beautiful lakes and waterways. Leave the crowds and your worries behind, while you dip your paddle into cool refreshing water and glide silently through the amazing landscape of the Cariboo Chilcotin. Plan a gentle afternoon or a week long adventure to discover incredible camping, fishing, wildlife viewing, swimming and sightseeing.
gear
We have kayaks, canoes, stand-up paddle boards for you to choose from. The canoes are tandems, however some are great for solo padding on group adventures. We provide all the safety equipment and route information you need for a great trip. Paddlers of any level of experience are welcome.
Wildlife viewing opportunities abound in this rich bio-diverse setting! Take the time to let your senses become aware. Even in the quiet, frozen winter you will see many tracks to identify and most likely will see white rabbits bounding around. It is not uncommon to see a coyote out on the frozen lake.
In spring, enjoy watching the Sandhill Cranes in the fields with their elaborate courtship dances. Take a trail from our field out to the marsh edge of the lake to see the Trumpeter Swans, geese, loons and ducks swimming in the open water or resting on the ice. You may even see a muskrat or otters playing!
Summer is the time to be on watch for babies! You may see a tawny moose calf trying to follow its huge mother, a mother bear leading her cubs to feed on some berries, or hear the yips of coyote pups looking for field mice. The Bald eagle's nest at the back of the field treats us with the opportunity to view the fledglings take their first flights.
The crisp morning air in fall is full of migratory calls and golden leaves. Watch the herons silhouetted against the evening sky, stealthily hunting along the shore edge. While the beavers are especially active now, the otter family seems to take some leisure time to enjoy fishing from the convenience of the diving raft.
Who knows what you'll see! It seems every year we see something new! Binioculars and headlamps are recommended to enhance your viewing.
Get in touch to book a stay, reserve paddling rentals, enquire about accessibility or dietary requirements, or ask questions. If you have an urgent enquiry or prefer a good old chat on the phone, please call us. If we're out on the farm, leave us a message and we'll be in touch as soon as possible.
250-243-2201
info@cariboocanoe.ca